Little Chairs Big Differences Annual Conference 2018
Brave and Creative:
Early Childhood Practices For a Just World
October 17, 2018
8:30am-3:30pm
at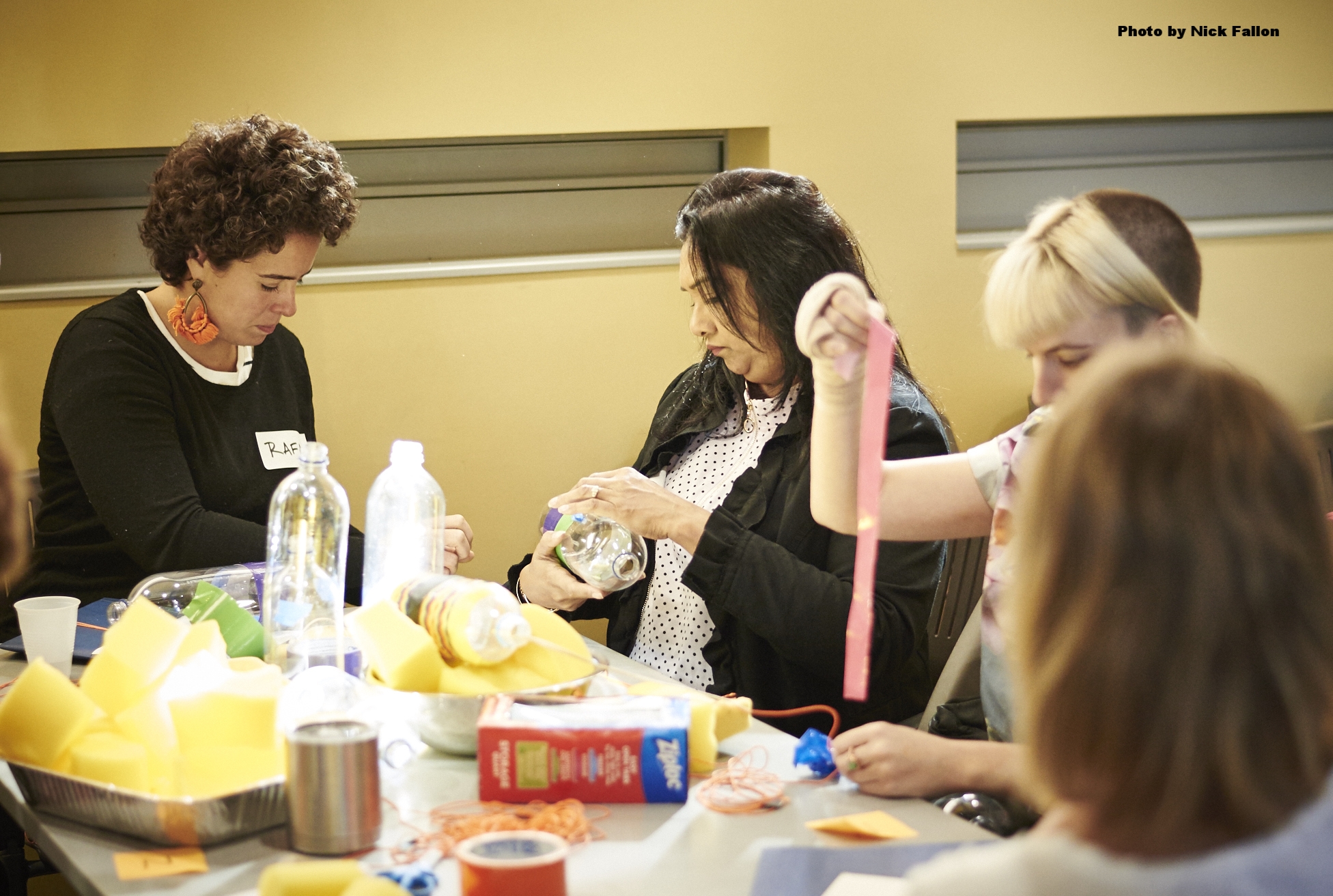 To decide on a theme for our sixth annual conference this year, we came together as a committee to envision what creates compassionate and playful early childhood care and education. What are the stories we all have and what are the stories we all tell? What is the art we create, the dances we do, the songs we sing, the food we cook, the play we play?
We are putting the practice before the theory this year.
Together we learn and grow towards empowerment when taking risks, being vulnerable, and being brave. We know that in order to have real empathy for children who are stretching and struggling every day, we need to understand what it feels like to stretch and struggle through different perspectives.
We want to practice this deep work, play, creative expression to have the courageous conversations to bring back into our centers, families and communities. We want to explore our shared histories, 'funds of knowledge,' and lived experiences that make our wisdom traditions.
Join us in Brooklyn for a one-day conference designed to bring together people who love and work with young children, birth to 8 years old, in various capacities.
In order to grow a just community and culture, we must practice, play, create and be brave ourselves. We are hoping that at this conference all the voices in the early childhood community are heard and and everyone is seen. That experiences are honored and wisdom is celebrated.
Join us on October 17, 2018, in our sixth year of Little Chairs, Big Differences, to practice bravery and creativity for a more just world. This world is one where we have everyday conversations and creations about race, gender, ability, class to learn and teach ourselves and the children we work with.
This conference is by us, for us.
SCHEDULE:
8:15am-8:45am - Early Morning Yoga with Yo Re Mi
Yo Re Mi brings curriculum-based music and yoga education to NYC schools (Pre-school age 2 through 5th Grade). Through our unique combination of music and yoga, children learn with their bodies, minds, and voices all at once. We incorporate live music, movement and mindfulness while supporting curriculum goals. In addition to combining two enrichment classes into one, we celebrate the uniqueness of a child's mind, honoring their creativity and imagination in a non-competitive environment.
8:30am-9am - Registration and light breakfast
Brave and Creative Superhero Cape-making Pop-Up
9am-9:45am - Welcome song with LCBD Planning Committee-Member Stephen Figurasmith
Keynote speech with activist Patricia Okoumou
Patricia Okoumou scaled the Statue of Liberty on July 04, 2018 to protest the Trump Administration Zero-Tolerance policy on immigration. Patricia came to New York City from the Republic of the Congo in 1994. She experienced family separation during the first couple years of her life, and that motivates her to advocate for The Children. Her father was an aviator, serving as a pilot for the President Denis Sassou Nguesso. Patricia has a Bachelor's Degree in Human Services from Metropolitan College of New York (formerly Audrey Cohen College) and an Associate's Degree in Science from Columbia-Greene Community College. She has been involved in social justice for most of her adult life.
10am-11:30am - Workshop Session A
Megan Pamela Ruth Madison: Black Lives Matter. Racial Justice in Early Childhood Education

During this workshop, we will learn about ways that anti-Black racism (at its intersection with other systems of oppression) impacts our lives, the lives of the children and families we serve, and the world we live in. Through discussion and interactive activities, we will develop the skillset to teach for Black lives. We will establish anti-racist community agreements, develop shared language, and organize strategies to support the 2019 Black Lives Matter At School Week of Action. This is an organizing workshop. Together, we will create a brave space by establishing community agreements that specifically and intentionally challenge the norms of white supremacy culture (perfectionism, defensiveness, individualism, fear of open conflict, etc.). From there, our community will design creative strategies to support the BLM at School movement.

Little Maroons Collective: We Are the Maroons: Teaching Community Self-determination

We will share tools and activities that encourage expression of self-determination for communities through sharing and enacting the stories of enslaved Africans that escaped and created their own autonomous communities. These autonomous communities, called Maroons, Quilombos, Palenques, and Cimarrones. Quilombos, Palenques, and Cimarrones have rich experiences that are examples of bravery and creativity that can be translated into activities we can do right now to encourage self-determination in our classrooms, communities and families.

EIleen Blau: Teacher Made Materials for helping Children with Sensory Processing and Self-Regulation Difficulties

Often children with special needs have difficulty with school routines, transitions, social interactions and emotional self-regulation. By giving the teachers tools, they can feel empowered and empower the children to diminish their fears and attempt new activities and social situations. She will demonstrate the materials I've made and how they can be of help with children. Then she will lead a hand's-on workshop making 3 different materials for the teachers to use with the children with whom they work. Participants can choose one of the 3 projects to create and take with them.

Brave and Creative Superhero Cape-making Pop-Up

We practice the art of radical and playful pop-ups at Maple Street Preschool, at Little Chairs Big Differences conference in Brooklyn NY, and beyond. Radical and playful pop-ups for us are always free, never owned, include everyone, and always have intention based in kindness, creativity, play, joy, love and activism.

Radical, playful pop-ups can teach us that anyone can create culture and share it rather than just consume it. Radical pop-ups also work with our implicit bias by having children and grown-ups invite everyone from the bus driver to the person with earphones on that can't hear anything.

Additionally pop-ups are a tool we use to teach children and their grown ups about changing the world and activism. Our pop-ups are rooted in pedagogy from Pippi Longstocking to Paulo Friere. They are playful, ridiculous and encourage the power of creation and voice.

Pop-Ups when they are for and by the people (and especially the preschool people), and when they are compassionate and creative, can shift perspective and create more than an Instagram moment; pop-ups can be part of creating a compassionate, playful, inclusive culture and community.

We invite you to come visit us and experience the love, creativity, joy, power and activism in our grassroots radical playful pop-ups.
11:30am-12:30pm - Vegan Dominican Lunch provided by Woke Foods
12:30pm-2pm - Workshop Session B
Peggy Francois Roseus, Jennifer Smith and Marisa Wallin: Free Your Art (and the Rest Will Follow)

Children are innately creative thinkers and doers. People who work with young children, whether they know it or not, are also creative thinkers and doers. One cannot successfully connect with a child, have a vibrant classroom, or connect with others in their community without being able to express themselves in a healthy way. Accessing ways to creatively express yourself can be an act of liberation and empowerment. Sometimes this can be scary, but just as we expect the children we work with to constantly be open to new experiences, we must find ways of keeping access to our open, creative selves. Learning is a process of continual experimentation and discovery--and as educators we are always learning alongside our students. This interactive workshop will be a safe space for everyone to explore where their inner-artist lives: in song or movement, in painting or writing.

Race Conscious: Raising Race Conscious Children

Participants will learn about research-based strategies regarding talking about race and racial justice with young children. Participants will see these proactive strategies modeled, and then dive into practicing the strategies in pairs and small groups. Our approach is a shift in mindset from the legacy of colorblindness to a new way of thinking about race...a race conscious mindset. This requires is braveness on the part of adults, and creativity in storytelling is a key part of how these strategies are enacted. We will use a PowerPoint to access various visuals that we will use as prompts. The first 30 minutes of the workshop is more listening on the part of participants, and the last hour is very interactive.

Margaret Blachly and Noelle Dean: Feelings Charts Instead of Behavior Charts, Radical Love Instead of Shame (Emotionally Responsive Practice)

Early childhood programs often face the dilemma of how to manage challenging behaviors in increasingly stressed school environments. Overwhelmingly, we see schools rely on implementing behavioral programs designed to manage and shift children's behavior. The hallmark of these programs are to reinforce positive behavior with a rewards system. Often schools carry this theory even further by applying consequences such as loss of recess and other special experiences as punishment for negative behaviors. Not surprisingly, the results of implementing these behavioral programs sharply highlight and replicate a macro-system which inevitably shames instead of supporting, controls instead of empowering, punishes instead of healing, and invalidates just how deeply young children experience their lives. Reports show that these programs are used more regularly with children of color within racially diverse classrooms and are implemented more often in schools in poor communities and communities of color.

Feelings Charts and other types of emotionally responsive invitations are alternatives to the behavioral management programs. By inviting children to share the authentic stories from their lives and the feelings surrounding those stories, teachers and schools come to know children in deep and meaningful ways. When children are known, they feel held and safe. Instead of focusing on stopping behaviors, we invite schools to understand more about the complex reasons that children act out and how to listen deeply to what they are communicating to us. Research shows us the importance of relationship and community in regulating toxic stress in the bodies of children and adults alike. Classrooms and schools must become communities that courageously invite the real struggles and experiences of all children, so that classrooms and schools can become grounds for healing and growth, not shame and punishment.

Come learn about how to use feelings charts, emotionally responsive books, and reflective songs in the classroom as a tool for social justice and emotional well being.

Tour of Weeksville Heritage Center's Historic Hunterfly Houses (Maximum 20 people)
2pm-3pm - Closing Ceremony led by MINKA Brooklyn, Goodbye with LCBD Planning Committee
'MINKA' means 'home of the people'. A healers-led center for wellness and holistic living, MINKA focuses on promoting the inherent magic that is present within nature, and to unleash the power of human potential. It is a space for beings of all identities and expressions; and the workshops and services reflects these values. MINKAbrooklyn@gmail.com
3pm-5pm - After Party TBA